Less than a kilometre separates the vast Spencer's inside Quest Mall and the sprawling Haldiram building opposite CC&FC in Ballygunge. And yet, neither of these two premier shopping centres is chock-a-block with customers on most evenings. This is largely because tucked away on a sidewalk on Ballygunge Park Road is a grocery store called Bhagya Lakshmi, the go-to place for groceries in the locality.
Much humbler in size and scale than Spencer's or Haldiram, Bhagya Lakshmi has been around since 1991. Enough time for the store to build loyal customers across families and generations, especially among the Marwari and Gujarati communities. "People come to us because they have faith in us. At Bhagya Lakshmi, we prioritise our service over products. We know that customers can get the products we sell at other places. But it's unlikely that they'll get the same service," said Sulav Ganeriwal, part of the second generation in charge of running Bhagya Lakshmi's business.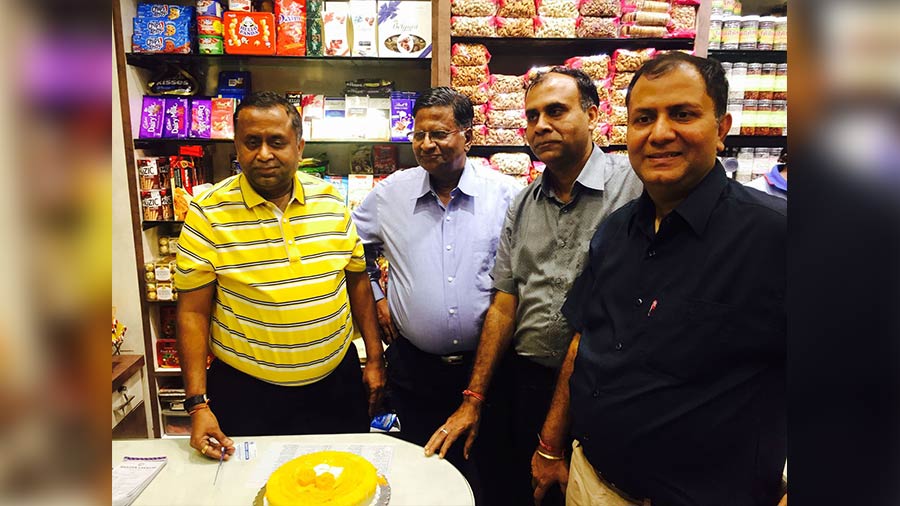 Pawan Kumar Ganeriwal (extreme left) set up Bhagya Lakshmi along with his brothers Lalit (second from left) and Ashok Kumar Ganeriwal (third from left)
Sulav Ganeriwal
A little more than three decades ago, it was Sulav's father, Pawan Kumar Ganeriwal, who opened the first Bhagya Lakshmi store in Kankurgachhi along with his brothers Lalit and Ashok Kumar Ganeriwal. Since then, Bhagya Lakshmi outlets have popped up in Alipore, City Centre Salt Lake, City Centre New Town, Howrah's Avani Riverside Mall, and, of course, in Ballygunge.
We had to diversify during the pandemic by building a digital presence

When the Covid-19 pandemic struck in March 2020, the general assumption was that Bhagya Lakshmi would struggle to cope in the absence of in-person customers and may even go out of business. Not only did no such thing happen, but Bhagya Lakshmi used the pandemic to grow in the online space, setting up a smart website that delivers practically everything that is available in the physical store. "We had to diversify during the pandemic by building a digital presence. Since we didn't want to inconvenience our customers in any way, we didn't charge anything extra for deliveries during the Covid waves, something that continues today," said Sulav.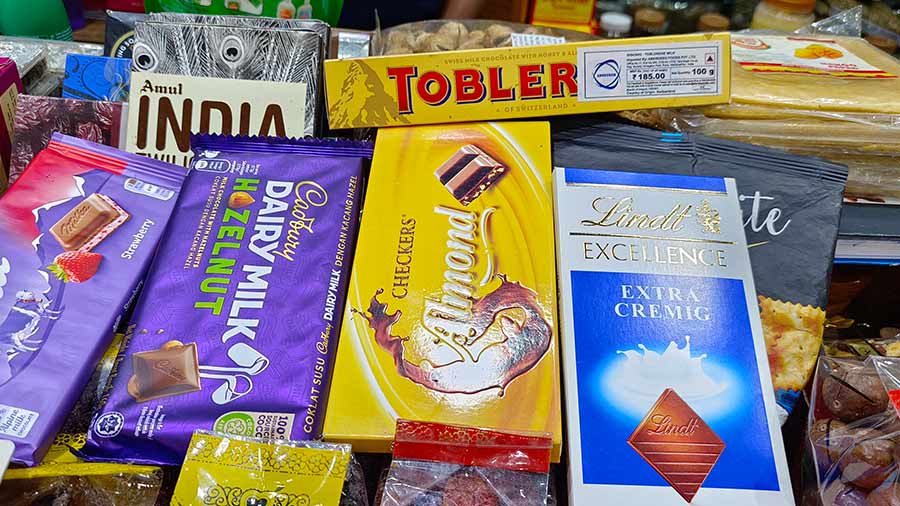 Chocolates disappeared from Bhagya Lakshmi's shelves during the pandemic as only necessary items were sold
Ritagnik Bhattacharya
Deemed by the government to be an essential service during the first and second waves of Covid-19, grocery stores were open for select hours on select days as the pandemic wreaked havoc in 2020 and 2021. During this time, Bhagya Lakshmi's outlets in Ballygunge, Alipore and Kankurgachhi were open, selling basic staples, while the ones in the malls remained shut. "We had both regular and new customers coming in because there was a shortage of staples all around. We made sure that we provided what people needed for their sustenance, from rice, dal and flour to milk, sugar, bread and butter. It wasn't easy for us to source any of those items since supply chains were severely affected and travel restrictions made movement of items even harder. But we soldiered on and managed to get the job done. At Bhagya Lakshmi, we've always regarded service to be more important than profits. Such a spirit helped us a lot during the pandemic," recalled Sulav.
Chocolates and chips, two extremely popular items at Bhagya Lakshmi under normal circumstances, stopped making their way into any shopping carts from the Ballygunge outlet. "Items of indulgence and luxury took a back seat. They weren't connected to survival, and so they weren't sold per se when Covid was at its peak." The story, however, was slightly different online, as Bhagya Lakshmi's exotic collection of dry fruits, healthy nuts and mixes found buyers even at the height of the second wave.
We have our mix of homegrown brands as well as imported ones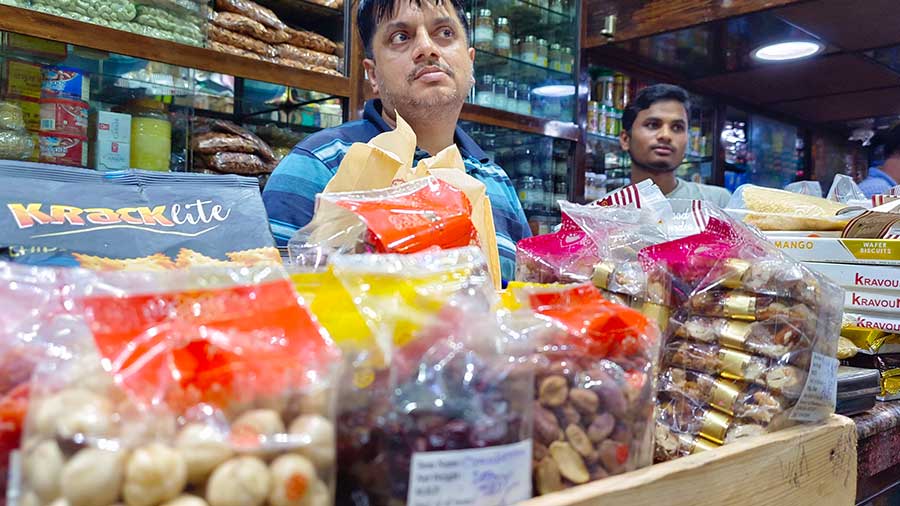 Sales are almost back to normal at Bhagya Lakshmi following a crippling two years due to the pandemic
Ritagnik Bhattacharya
With Covid starting to recede, are products and sales getting back to normal in the Ballygunge store?
"Yes, we're very much back to normal now. The losses over the past two years are unlikely to be recovered by anyone, not just us. But we're trying our best to make up in whatever way we can," replied Sulav. 
A quick glance through the packed shelves at Bhagya Lakshmi reveals household brand names as well as some quaint ones that might be more familiar to those frequenting duty-free shops at airports. "We have our mix of homegrown brands as well as imported ones. In the FMCG industry, new brands keep entering the market every day. Everything is down to the consumer's choice and the subsequent demand," explained Sulav.
Spending a fair bit of time inside the store also acts as a good indicator of people's priorities across Kolkata's socioeconomic strata, which is reiterated by Sulav: "We have customers from all kinds of backgrounds. Upper-class customers will look out for the latest imported perfume or chocolate. At the other end of the spectrum, lower-middle-class customers will only buy whatever is absolutely necessary for their daily meals. Sandwiched in between are the middle class, who strike a balance. They will get the essentials and some snacks like muri, chanachur and soya sticks. They may even get chocolates once in a while if their kids insist."
Joint families have us as their top preference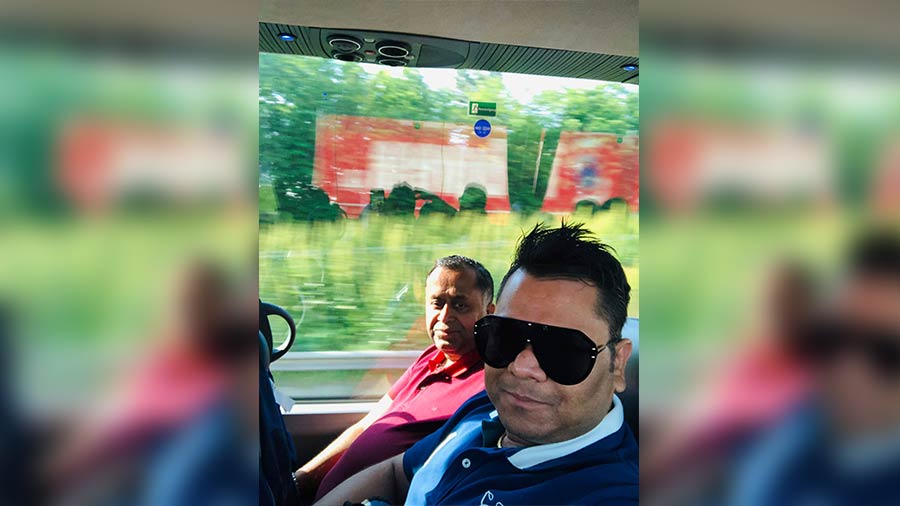 Sulav Ganeriwal with his father Pawan
Sulav Ganeriwal
When asked about competition and dealing with powerhouses like Spencer's and Haldiram, Sulav was sincere in his response: "We know we can't attract any and every customer. So we don't look to do that. I have no hesitation in admitting that a lot of nuclear families may prefer going to Spencer's, since they mostly do their shopping on weekends and in one go. But when it comes to joint families, where elders shop almost every day, we end up being their top preference. Our goal is to focus on what we do best, without worrying about what anybody else is doing."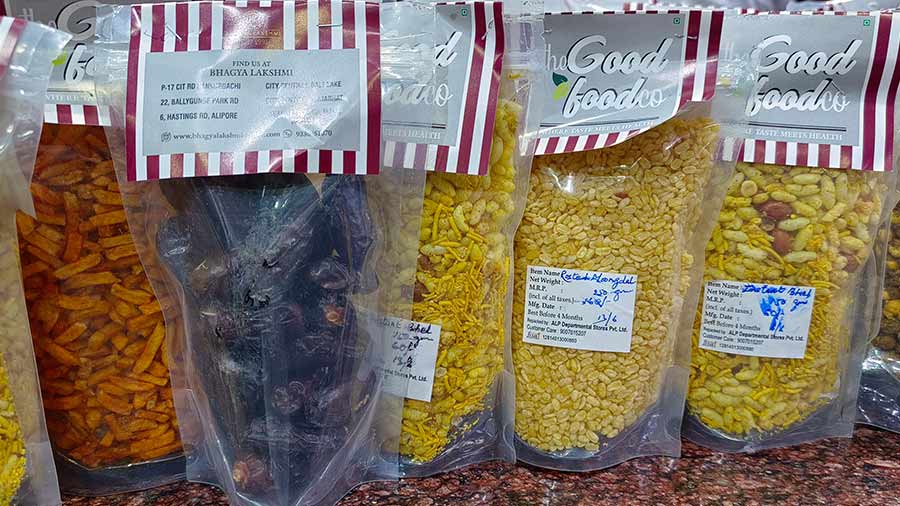 Bhagya Lakshmi has a loyal customer base, which has held them in good stead for decades
Ritagnik Bhattacharya
Zeroing in on their strengths and acknowledging their limitations have definitely helped Bhagya Lakshmi thrive in the long run. As have the unquantifiable factors, such as the distinct aroma that pervades the entire store – a combined essence of dry fruits, mint chocolates, spices, sauces and a whole lot more, which stimulates the senses and inflates one's imaginary purchasing power. 
Personal connect with loyal customers from the area

Finally, there is the feeling of access and control inside Bhagya Lakshmi in being able to see and scan pretty much the whole store at once. No wandering quests for biscuits, no sidestepping fellow buyers with trolleys, no chances of being accosted to try a pastry, deodorant or mouth freshener for free. In contrast to the IKEA philosophy of walk-through catalogues in a never-ending maze, Bhagya Lakshmi saves time and space, giving customers what they need instead of what they never thought they would want."For 30 years, my family has been shopping at Bhagya Lakshmi. It truly is like our 'home' store, a feeling that cannot be replicated by the big boys of retail. That personal connect with loyal customers from the area makes Bhagya Lakshmi the David in the daily-needs retail battle with the Goliaths," said a shopper from Mayfair Road.